Natürlich sind wir auf den wichtigsten Social-Media Plattformen aktiv neben YouTube und Instagram vor allem hier:

The UAE's Superbrands will be recognised at the 18th annual tribute event, which is acknowledged by many in the corporate world as the 'Oscars of Branding'. The event served as the launch pad for the 18th edition of the well-respected Superbrands UAE Book, which featured a two-page profile on each of the 2022 Superbrands.

https://library.superbrands.com/online-ebook-html5… ... See MoreSee Less

Load more
Firmen treibt Angst vor #Inflation/#Rezession👉#Preis #Packungsgröße #Markenbudget geeignet als Stellschrauben❓#HWRBerlin Prof. Carsten Baumgarth: "#Markenaufbau ist eine Langfristaufgabe. Wenn man die heute vergisst, wird man nach der Krise schlechter dastehen." @SuperbrandsDE
.@ntvde - in diesem Jahr selbst als #Superbrand Germany ausgezeichnet - war am Mittwoch bei der Preisverleihung in Wiesbaden mit der Kamera dabei. Hier können Sie den Beitrag anschauen:

Auch ntv ausgezeichnet: Jury kürt 30 Marken als "Superbrands Germany"
Markendominanz, Kundenbindung, Nachhaltigkeit und Langlebigkeit: In Wiesbaden werden die "Superbrands Germany" ausgezeichnet. ...
www.n-tv.de
So tolle #Superbrands Germany, die wir am Mittwoch in Wiesbaden auszeichnen durften. Wer den Abend in Bildern Revue passieren lassen möchte: Drüben auf Facebook gibt's ein Fotoalbum mit vielen schönen Motiven. 🎉
https://www.facebook.com/media/set/?set=a.5637869142971128&type=3
Ganz dicke Gratulation an die @AktionDHilft zur erneuten Auszeichnung als #Superbrand Germany!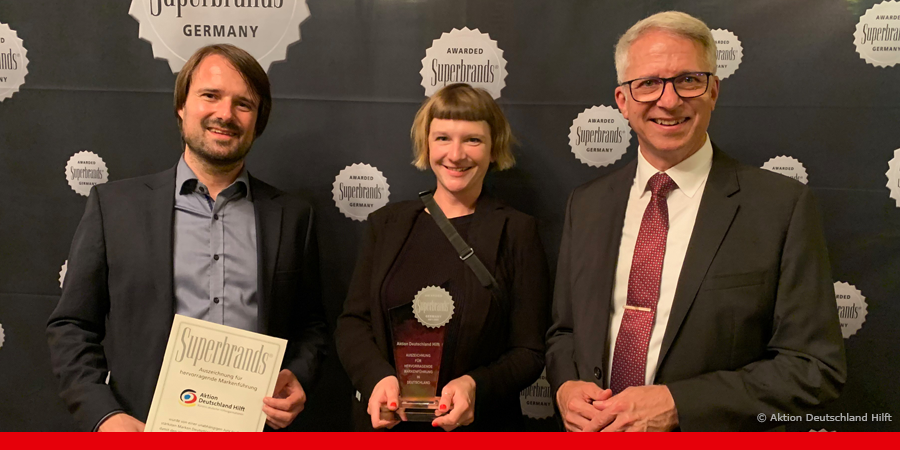 Aktion Deutschland Hilft
@AktionDHilft
Diese Woche wurde Aktion Deutschland Hilft mit dem Sonderpreis "Social Superbrands Germany" ausgezeichnet 🏆Wir freuen uns, dass @SuperbrandsDE uns nach 2019 bereits zum zweiten Mal für das Vertrauen in unsere Marke geehrt hat 🙌
Gleich geht's los! Wir zeichnen in der Wiesbadener Casino-Gesellschaft die #Superbrands aus. 🏆 Gratulation an die stärksten Marken Deutschlands und Weitsprung-Weltmeisterin Malaika Mihambo. Wir freuen uns auf einen tollen Abend! 🎉
https://germany.superbrands.com/superbrands-germany
Übermorgen werden die #Superbrands Germany in Wiesbaden geehrt. Ausnahme-Leichtathletin Malaika #Mihambo wird als Persönlichkeit ausgezeichnet. Wir freuen uns, dass Christine #Langner, Sportmoderatorin von @ntvde, die Laudatio auf sie hält. Was für eine Ehre! 🥳
Und hier auch nochmal ganz offiziell: unsere Pressemitteilung. Gratulation an unsere ausgezeichneten Marken und unsere #Superbrands Germany Persönlichkeit Malaika #Mihambo. Wir freuen uns auf die Preisverleihung am 19. Oktober! 🥳

Malaika Mihambo und 30 Marken werden als Superbrands Germany 2021/2022 ausgezeichnet / Gala am 19. Oktober in Wiesbaden
Veitsbronn (ots) - Mit dem Superbrands Germany Tribute Event findet das aktuelle internationale Marken-Auszeichnungsverfahre...
www.presseportal.de
In einer Woche ist es soweit: Die #Superbrands GERMANY werden ausgezeichnet! 🎉 Die #Preisverleihung findet in der Wiesbadener Casino-Gesellschaft statt. Wir freuen uns auf alle ausgezeichneten Marken & Malaika #Mihambo, die die Ehrung persönlich in Empfang nehmen wird. 🏆
Der #Herbst wartet mit magischen Farben auf. 🌿🎃🍁 Bunte Blätter und eindrucksvolle Lichtspiele laden zu einer Fototour ein. 📸 Wie Sie die schönsten Herbstmomente mit der Kamera einfangen können, erfahren Sie bei unserer #Superbrand @cewefotobuch.
https://www.cewe.de/inspiration/youdiful-tipps-fuer-fotomomente.html
Olympiasiegerin, Weltmeisterin und dreifache Sportlerin des Jahres: die Leichtathletin Malaika #Mihambo ist eine Ausnahmesportlerin und in diesem Jahr unsere "#Superbrands Germany"-Persönlichkeit! 🚀Herzlichen Glückwunsch! 🏆
Foto: picture alliance/Michael Kappeler
Der Herbst ist da und das #Fernweh hat Sie gepackt? 🏖️ Dann reisen Sie doch auf der virtuellen Weltkarte unserer #Superbrand @cewefotobuch an die schönsten Orte der Erde & lassen sich für Ihren nächsten #Urlaub inspirieren. ☀️😎
https://www.cewe.de/reise-weltkarte.html
Load More...